---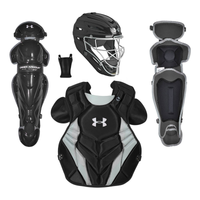 UA Converge Victory Series Catching Complete Set (Ages 9-12)

The Under Armour Converge Victory Series Catcher's Kit offers complete protection with a secure, comfortable fit. The catching helmet included with this Under Armour catcher's gear is built with dual-density foam to absorb impact. The helmet and chest protector meet Commotio Cordis protection standards and features internal protective plates for durability and impact absorption as well as an adjustable harness for comfort. This Under Armour Catcher's Gear also comes with leg guards built with high-strength plastic for durability and protection. Stay safe and protected this season with the Under Armour Converge Victory Series Catcher's Kit.

Features:

Catcher's Helmet UAHG2-YVS

Adjustable tension for a secure fit
Dual-density foam liner absorbs impact
Size: 6-1/4 to 7
Chest Protector UACPCC4-JRVS

Internal protective plates
Over the shoulder coverage
Meets Commotio Cordis chest protector standards
Anatomical breakpoints and five-point adjustable harness for comfort
Size: 14.5"
Leg Guards UALG2-JRVS

Elastic straps for a secure fit
High-strength plastic for durability
Size: 13"
Throat Guard UATG3Y