---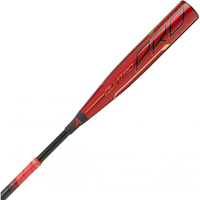 Masterfully crafted from the finest composite materials, the Rawlings 2020 Quatro Pro BBCOR bat was designed to provide hitters with maximum performance every time they step up to the plate. The Q4 suspended inner-barrel technology provides batters with a longer barrel, a larger sweet spot, and a more balanced swing. As a result you'll have a cleaner swing, you'll make consistent contact, and you'll drive the ball through gaps with ease.

College and high school players will love this drop-3 composite baseball bat; it's a perfect fit for their level of play. In addition, these athletes will watch their batting averages and RBIs soar with each ball that explodes off their bat.

Order your Rawlings 2020 Quatro Pro today, and become an offensive threat now!
*Due to manufacturing tolerances, certification calculations and standards, or added materials such as grip tape or decals, drop is not intended to and should not be relied upon to calculate the actual weight of this bat as sold.