---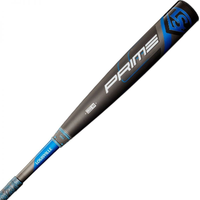 Unmatched feel and an optimized sweet spot. This is Prime.

The AVC Microform Composite barrel is engineered to perfection, designed to give you an optimized sweet spot and unmatched feel. An RTX™ end cap provides a longer barrel shape and patented VCX™ Technology allows for independent movement between the barrel and handle while controlling vibration and providing unmatched feel on contact. VCX™ Technology creates a feel unique to both power and contact hitters alike.

The 2020 Prime, the leader of the BBCOR pack for years, is also available for customization at SluggerCustomBats.com.

Built for when the game is on the line, the 2020 Louisville Slugger BBCOR lineup builds on our legacy with our most consistently high-performing bats we've ever made.

Dig in. Break out.