---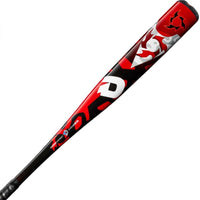 Hotter than hell. Introducing the 2020 Voodoo One (-3) BBCOR bat from DeMarini, preferred by elite players for its explosive bat speed, pop, and unrivaled feel of a one-piece design.
The 2020 Voodoo One (-3) BBCOR bat gives you the feel of a wood bat with the performance and pop you love in an alloy barrel. Our X14 Alloy swings light and packs a punch. When paired with our ReAction End Cap, the barrel performance goes to the next level - without sacrificing swing speed.
Introduce some chaos this season with our hottest Voodoo lineup to-date. For years, we've been taking what's accepted and turning it on its head, pushing the limits of innovation and performance. What can you do with this power in your hands?