---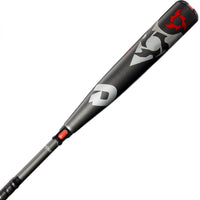 Built by outlaws, for outlaws. Introducing the 2020 Voodoo (-3) BBCOR bat from DeMarini, designed for the player who wants the durability and power of alloy with the speed and feel of a two-piece hybrid.
The 2020 Voodoo (-3) BBCOR bat brings the power of both worlds to your fingertips, with a composite handle and alloy barrel Half + Half design for added bat speed and performance. The ball fires off the lightweight X14 Alloy and our 3Fusion Connection puts you in control, redirecting energy back into the barrel with every swing in a stick that feels as good as it swings.
Introduce some chaos this season with our hottest Voodoo lineup to-date. For years, we've been taking what's accepted and turning it on its head, pushing the limits of innovation and performance. What can you do with this power in your hands?