---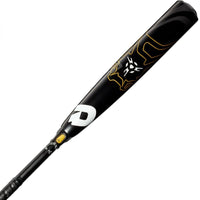 Rebellion runs deep. Introducing the all-new 2020 CF (-3) BBCOR Baseball Bat - from DeMarini, designed from knob to end cap for elite players who love a composite feel and the bat speed and huge barrel the CF provides year after year. 
The 2020 CF (-3) BBCOR Baseball Bat - bat stands out from the crowd as the premier two-piece composite bat in the game today. The 2020 DeMarini CF has a balanced, lightweight feel and an ultra-responsive barrel that creates great feel on contact. We paired our Paraflex Plus Composite Barrel and 3Fusion System with an all-new ReAction End Cap, designed to increase swing speed and improve barrel performance.
Upsetting the order is in your veins. It's in ours, too. That's what drove us to create our most innovative, high-performing CF Series ever. No matter how you approach the game, bring a little chaos with you to the dish this season.