---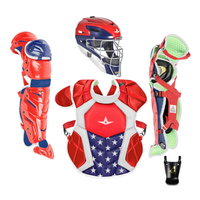 Certified NOCSAE® Young Pro Axis Catcher's Kit, System 7
Age 9-12 Kit Contains - MVP2510- CPCC912S7X- LG912S7X
* Throat guard- Bag- Wristbands not included
MVP2510

The System Seven™ MVP2510 is designed for youth through college level ball.
The Ultra Cool™ moisture wicking mesh liner system is removable and machine washable. Replacement padding can be purchased separately. Having a second liner system can be useful for those hot summer days with double header games.
Impact resistant ABS plastic shell.
Fits head sizes 6 1/4 through 7
CPCC912S7X

The S7 Axis™ chest protector provides many of the beloved elements of the original S7™ CP912 including wedged abs for blocking, internal and moldable PE protective plates for protection and fit, and the same outer profile.This chest protector will feel just like the classic with a few major improvements.
Diamond vents line the back for even more weight reduction and breathability
Stainless steel matte black hardware
Thinner and more form fitting DeltaFlex harness
Improved break points which present a flatter surface for blocking and improving control.
All star chest protectors are measured from the top of the sternum (below the collar) to a player's navel.
The chest protector should fit high, with the throat guard over the base of the neck.
Equipped with construction needed to pass the NOCSAE standard
LENGTH:14.5"
CLEANING: Machine wash. Cold water / mild detergent / air dry.
LG912S7X
SIZE 13.5 INCHES
The SYSTEM7 AXIS chest protector includes many of the loved features of the original S7 CP30PRO including wedged abs for blocking, internal and moldable PE protective plates, and the same outer profile. This chest protector will feel just like the classic with a fem major improvements.
Diamond vents line the back for even more weight reduction and breathability
Stainless steel matte black hardware
Thinner and more form fitting DeltaFlex harness
Improved break points which present a flatter surface for blocking, improving control